SoHo is a free creative resume template using rectangle speech bubbles. This beautiful curriculum vitae layout is designed with a 2-column structure layout. Your main content (profile, experience, and education) will go on the first column. Your contact information, skills -with data-driven bar charts- and languages on the right column…
The callouts highlight the description of your profile or objectives, and your career path ("experience"), and education.
The Skills part uses data-driven bar charts.
Free resume for Word with 5 color styles: blue, gray, green, orange, and purple.
Our tip: you could still edit very easily and customize the resume with your own colors, if needed. And even easier and faster, you can also change the color scheme in just 1-click: go to the "Design" tab of the ribbon, and "Colors" to select an existing standard theme color /or customize yours if needed. To create your own color theme, click "Customize Colors".

The package (.ZIP format) includes Microsoft Word files (.DOCX) in International A4 and US/Canada Letter sizes.
Optimized resume template for an easy customization
1) Clearly organized with tables
Most of the templates you'll find online (even the expensive ones) are simply built with text boxes and shapes. But every resume is different as information length and nature are specific to everyone. And it's a nightmare to deal with when it comes to using the template with your own content. Tables, on the contrary, allow an easy and hassle-free customization, with no formatting or alignment issue.
2) User-friendly entry forms: designed with Text Content Control fields
This free resume template is also very easy to edit and to customize with MS Word (DOCX format): it is smartly designed using Text Content Control function from Microsoft Word. Just click once in each text field to edit and enter your own information!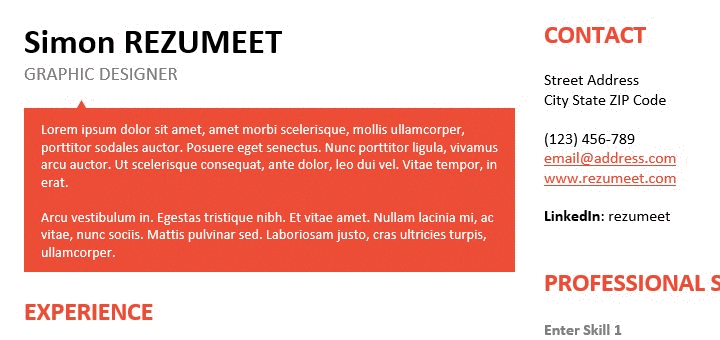 Main features:
Single page resume
Professional quality, premium design
Fully & easily editable with MS Word: built with Text Content Control function
Built with tables: perfectly aligned typography, easy to adjust and quick to customize – no advanced skills required
Uses data-driven bar charts
Only FREE Font used – Modern typography and readable font
5 color styles: blue, gray, green, orange and purple
2 aspect ratios: A4 (210×297 mm) & US Letter (8.5×11 in) paper size
License : Free use (please read carefully the 'Terms of Use' before using this resume template, restrictions may apply)
Resume template preview:
Files included in the package:
10 Microsoft Word (version 2016 or above) files – DOCX
1 Readme File – PDF
Uses free fonts¹:
¹ this resume is designed with the fonts above ; for an optimal result, install these fonts first, and then open the DOCX file.
² you will need to have this font installed to display the icons included in this template.
Customization steps:
Install required fonts if necessary
Open the DOCX file and Start editing / customizing
Save file as PDF
Email / Upload or Print it on any printer
Download the 'SoHo – Speech Bubble Resume Template' for free!